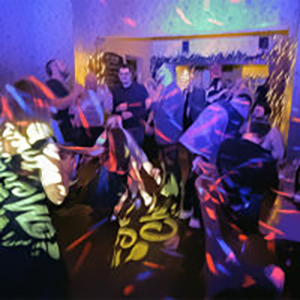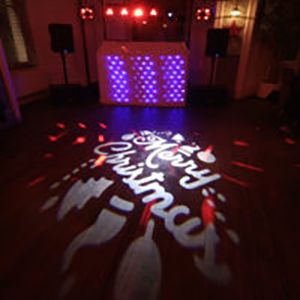 Christmas Disco
Our Christmas Disco professional party djs will play all the festive favorites. This ensures your party has that essential Christmas flavour. Similarly this can be left  to one side and style the party to suit your music choice. For instance Dance and Party tunes, or music to make it a theme Disco. As a result our djs play the current charts or a mix of everything with a Christmas feel. We can mix the latest chart music with the greatest floor filling party classics from the past while retaining the Chrismas spirit.
Furthermore we have provided Mobile discos for Christmas parties Since 1988.  These include formal Dinner dances, hotel functions, kids parties and office Christmas party complete with tree, decorations, and Father Christmas.
Book a Reliable Disco
Unfortunately at Christmas we get many last minute calls from people who have booked a no show mobile disco and the DJ has let them down at the last minute. This happens because at Christmas demand for DJs is very high, even the unprofessional ones. Some Mobile Discos don't turn up because the DJ has been offered better money elsewhere in spite of this, we will treat your Christmas party as a top priority, and Mindy's Roadshow is 100% reliable.
Organising a office Christmas party can be very stressful. Hiring a reliable Mobile Disco with a experienced party DJ who can deliver what's promised will be one less thing to worry about. We can advise clients advice on all aspects of organising a party and we are committed to make your Christmas party the fantastic success it should be.
Book Your Christmas Disco
Please call 07729 224 597 or email or Contact Us for an informal discussion as to your own individual requirements.
Favourite Christmas Party Songs
Chris De Burgh - A Spaceman Came Travelling.
David Essex - A Winter's Tale.
Mariah Carey - All I Want For Christmas.
Elvis - Blue Christmas.
Darlene Love - Christmas (Baby Please Come Home).
Daniel O'Donnell - Christmas Long Ago.
Nat King Cole - Christmas Song.
Gloria Estefan - Christmas Through Your Eyes.
Jackson 5 - Christmas Won't Be The Same.
Waitresses - Christmas Wrapping.
Band Aid - Do They Know It's Christmas.
Chris Rea - Driving Home For Christmas.
Cyndi Lauper - Early Christmas Morning.
Favourite Christmas Songs
3t - Endless Christmas.
Pogues & Kirsty Mac Coll - Fairytale Of New York.
Jackson 5 - Frosty The Snowman.
Smokie Robinson & The Miracles - God Rest Ye Merry Gentlemen.
Andy Williams - Happy Holiday.
John & Yoko - Happy Xmas (War Is Over).
Abba - Happy New Year.
Bob B Soxx - Here Comes Santa Claus.
Greg Lake - I Believe In Father Christmas.
Luther Vandross - Have Yourself A Very Merry Christmas.
Roy Wood & Wizzard - I Wish It Could Be Christmas Everyday.
Mike Oldfield - In Dulci Jubilo.
Love Unlimited - It May Be Winter Outside.
Bert Linch - In The Bleak Mid Winter.
Bobby Helms - Jingle Bell Rock.
Smokie Robinson & The Miracles - Jingle Bells.
Wham - Last Christmas.
Frank Sinatra - Let It Snow.
Classic Christmas Songs
Michael Jackson - Little Christmas Tree.
Michael Jackson & Jackson 5 - Little Drummer Boy.
Beach Boys - Little St Nick.
Adam Faith - Lonely Pup (In A Christmas Shop).
Mud - Lonely This Christmas.
Boney M - Mary's Boy Child.
Bruce Springsteen - Merry Christmas Baby.
Carpenters - Merry Christmas Darling.
Shakin' Stevens - Merry Christmas Everyone.
Slade - Merry Xmas Everybody.
Cliff Richard - Mistletoe & Wine.
Diana Ross & The Supremes - My Christmas Tree.
Flying Pickets - Only You.
Bing Crosby & David Bowie - Peace On Earth.
Roy Orbison - Pretty Paper.
Up tempo Party Songs
Brenda Lee - Rocking Around The Christmas Tree.
Crystals - Rudolph The Rednosed Reindeer.
Eartha Kitt - Santa Baby.
Crystals - Santa Claus Is Coming To Town.
Weather Girls - Sing Merry Christmas.
Ronettes - Sleigh Ride.
Stevie Wonder - Someday At Christmas.
Elton John - Step Into Christmas.
Jona Lewie - Stop The Cavalry.
Queen - Thank God It's Christmas.
Spinners - Twelve Days Of Christmas.
Aled Jones - Walking In The Air.
Stevie Wonder - What Christmas Means To Me.
Christmas Songs To Make You Smile
Faith Hill - Where Are You Christmas? (3:56).
Bing Crosby - White Christmas.
Darlene Love - Winter Wonderland.
Wombles - Wombling Merry Christmas.
Paul McCartney - Wonderful Christmas Time.