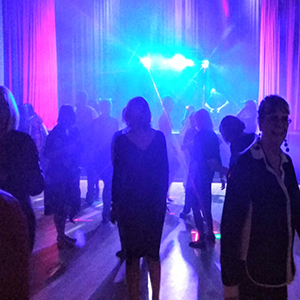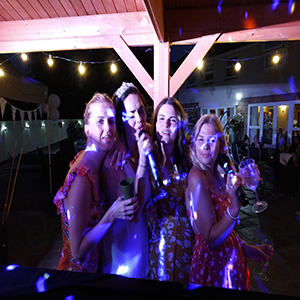 exhibition, product launch or simply just needs cheering up, we have the right party for you.
With many years of experience in Corporate Mobile Disco entertainment and many satisfied corporate clients, we will ensure your event is enjoyed from the post room to the board room.
If you are an Event Organiser or venue Banqueting Manager, you probably have enough to think about during the festive season, without having to worry about whether or not your DJ will be reliable, or indeed even show up!
You don't want to put all your eggs in one basket and risk booking your Christmas entertainment with a "one man band" DJ, who may let you down at the last minute, become stale or go sick half way through December!  Here are just a few reasons why you should book your company function with Mindy's Roadshow, an established professional DJ company.
Company Parties
* As an established DJ company with over 35 years experience
, the service we offer our corporate customers is superb, and includes:
* A dedicated Account Manager, who will meet you at your venue ( if you want us to... otherwise we can take your booking via E mail or phone) to discuss your entertainment requirements and put together a bespoke tariff, tailored to your exact specifications.
* A team of regular, professional, DJs - all smart, polite and highly experienced in the corporate sector, whom will understand and work with you, to your high standards.
Most clients like to be allocated a small team of DJs to work with throughout December, to build a relationship and keep the nights fresh.
* Assured client confidentiality - none of our representatives will ever discuss fees or booking information with your clients or guests.
* In addition to music requests from guests on the evening, we offer a facility for your clients to submit a play list in advance of your event, enabling the DJ to prepare prior to the evening.
This is particularly useful for themed nights like karaoke
* We also have a free service whereby if you or your guests wanted to bring along their phones, I pods or CD's on the night, we can play tracks from these, too.
* Incentives are also available in respect of volume bookings achieved in December.
These can be discussed with your Account Manager if and when they visit you. Please don't hesitate in contacting us for a tailor made quote BY FILLING IN THE CONTACT FORM ON THE RIGHT HAND SIDE OF THIS PAGE TOWARDS THE TOP, or Call 07729 224 597.