Add the WOW factor to your party
Snow machines are primarily used at school discos, children's parties and over the Christmas period, snow machines are a very popular and spectacular effect. Depending on which machine you hire, the size and amount of 'snow flakes' can be adjusted to suit your needs.
The snow jets out up to about 10 meters and falls just like snow to the floor or on top of whoever is in range, leaving a coating of the white fluffy stuff.
Technically these machines are actually specialized foam machines which are designed to defuse a jet of water-based, fast drying foam to create a very exciting snowfall or blizzard-like effect that both kids and adults love.
Although this sounds very messy, it leaves no mess at all. After just a few minutes all the 'snow' evaporates, leaving nothing to clear up. Perfect!
Snow machines are one of our most popular special effects. They are very cost effective & produce an amazing effect.
Real looking snow

6-10 meter jet of snow

Ideal for kids 6+ and adults

Snow evaporates quickly

Great value for money

No Mess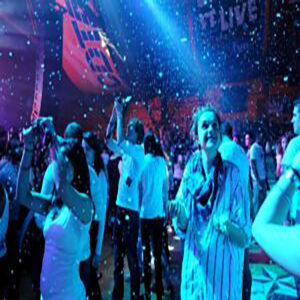 Is it real snow?
No.
This type of snow machine produces a fast drying foam substance from a water-based solution.
Will it make the floor slippery?
It can.
Although most of the snow will fall onto the people within the snowfall area, some floor surfaces may still become slippery while others may not become slippery at all. The fluid we use is a special solution designed to evaporate very quickly, thus helping to minimize the risk of slipping.
During use, we closely monitor the conditions and limit use where necessary.
Is it messy?
No.
All the snow evaporates in just a few minutes.
Are they noisy?
Yes.
These snow machines sound similar to a hoover, but under disco conditions, this is not an issue. Alternative types of snow machine are available where the event requires a quiet snowfall.
CONTACT US USING THE FORM ON THE RIGHT HAND SIDE OF THIS PAGE TOWARDS THE TOP
Please call 07729 224 597 or email or Contact Us for an informal discussion as to your own individual requirements.