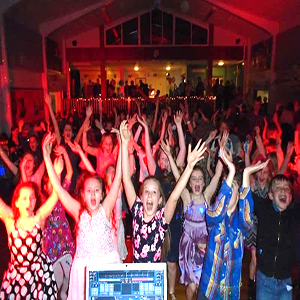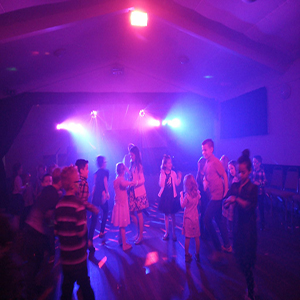 Kids Mobile Disco Hire
Kids Mobile Disco & Karaoke, we provide top quality Kids Disco's to suit all ages
Whether you are planning a Kids Disco, Child's Birthday party or a Kids Disco Party for 20 at the local church hall, or a High School Disco for an audience of 200, we can supply your requirements, and at our usual competitive price.
A kids mobile disco for our younger customers is as important as a disco for a wedding and we believe in making it as enjoyable as possible and interact with the children as much as possible we love our kids disco songs.
ToTs
Our Children's discos parties are aimed at age 5 and over and change the older the children get.
Packages are for 2 hours which is run on the basis of 45 minutes of fun games and dancing 30 minutes for you to feed them
and another 45 minutes of fun games and dancing.
One thing
you do not have to worry about is the children. We will entertain them. As a parent, you will not have to do anything except feed them in middle.
We are interactive with the children right from the start and do not just sit there and play music.
Games such as musical bumps, statues, chairs are standard as well as some of our own games.
Party Dances
including Conga, Hokey Cokey, The music man still capture children's attention and having an assistant at the front to show them the dances makes it fun and
keeps them focused as well ( even the boys find this entertaining).
INTERMEDIATE
When the children are a bit older ( 7 or 8 ) if we feel the kids would like, we then add in teams games like races using balloons and hoops, space permitting.
TEEN DISCO
At the magical teenage years the choice of a Disco and its contents get harder, do we still want games? do we just want to dance to chart music?
do we want to have fun and do party dances? the list of questions is endless.
The main answer, however, is if you want it we can provide it for you and can make it as fun as you would like it to be.
As with our junior disco's if it's in the evening especially on a weekend it will be the same price as an adult disco but we will tailor it to your Teens own individual requirements. Unlike our junior disco's you are not limited to a 2-hour show and you do not have to stop for a food break.
Why not add KARAOKE
Karaoke can be added on to any of our younger person Discos and can even be booked without a disco. We cater to plenty of schools and Language schools with Karaoke only nights.
Children love a UV PARTY
Our Glow UV Disco Party adds a cool, playful effect to your teenage party. UV (ultra-violet) lights create an ambient purple haze around a darkened venue.
White, neon or fluorescent clothing and glow accessories (available as an optional extra please enquire at the time of booking) shine brightly under our UV lighting, which not only looks awesome but is great fun too!
Using UV, laser & strobe light-show gives you stunning lighting effects in one fantastic party – UV lights to transform your venue into a glowing wonderland and laser and FX lights for a mini night-club party atmosphere!
Snow machines are one of our most popular special effects. They are very cost effective & produce an amazing effect.
Real looking snow
3-6 meter jet of snow
Ideal for kids 6+ and adults
Snow evaporates quickly
Great value for money
No Mess
---
Children's Parachute Games
Popcorn

: Place a number of beanbags, small balls, or cotton balls onto the parachute. Shake to make them pop up like "popcorn".

Ball Roll

: Have the children try to roll the balls into the hole in the middle of the parachute. (Or have children try to keep the balls from going into the hole in the center.)

Making Waves

: Children can make small, medium, or large movements to make various types of "waves." You can incorporate a story about a ship on the sea, weather, etc. &/or use your voice as a tool to emphasize directives.

Merry-Go-Round

: Children turn their bodies sideways and hold the chute with one hand. They then walk around in a circle, making a "Merry-Go-Round." For variety, children can hop, skip, jump, etc. You can stop music as a cue to reverse and go the other direction.

Poison Snakes

: Place three or four jump ropes onto the chute. Shake the parachute to keep the snakes from "biting" (touching) you.

Parachute Tag

: Lift the parachute high into the air. Call out two children's names. They must trade empty spots by running under the chute, before it comes down on them.

Mushroom

: Standing, lift the parachute waist height. Count to three - with "one" and "two" being small practice lifts. On three, all lift the chute overhead, and crouch down pulling the parachute edges down as well. This creates what looks like a "mushroom."

The Wave

: Children put their hands up, one after another, in order – creating a synchronized "wave" like in the stands at a baseball game.

Rollerball

: Try to keep a ball rolling only along the outer edge of the parachute around the circle. As it comes toward you, cooperatively lower your edge. Just past you, raise it.

All Change

: The Teacher calls out birthday months, pre-assigned numbers, colors, etc, and those children swap places under the chute before it falls, and run to an empty space.

See-Saw Pull

: From a sitting position, have children pull the parachute back and forth in a cooperative see-saw motion.

Shoe Shuffle

: Count off. All of a selected number take off one shoe and throw it in the middle. On the count of three, raise the chute, and the designated children have to run under and find their shoe before the chute comes down.

Bouncing Balls

: Have one or two children under the chute trying to hit the balls as they touch the surface, knocking them off the parachute (from underneath.)

Flying Saucer

: All take one step forward upon lifting the chute in the air. Upon command, all let go, and watch as it slowly floats.

Ball in the Bucket

: Break into two or more "teams." Each team will have a different colored ball (or balls.) They will try to keep their color ball from going into the middle circle, while trying to get the other teams' color of ball(s) into the hole.

Turtle

: The parachute becomes a giant turtle shell with everyone underneath it on hands and knees. Everyone must cooperate and work together to get the turtle to move about.

Beach Ball Fun

: Use a beach ball, moving it with waves, around on the parachute.

Parachute Volleyball

: Split into two sides of the parachute. One side tries to knock the ball off of the other side (half of chute), right past the other "team."

The Canopy

: Squat down with parachute flat on the ground. On the count of three, stand up and stretch arms above head, creating a canopy.

Parachute

: Lift the parachute high overhead. Call one child's name and have her run (skip, hop, twirl or crawl) to the other side before the parachute comes down and tags her.

Parachute Run

: Have the children take turns running on the parachute as it lies on the ground, while the other children make waves. See how long the children can manoeuvre on the waves before falling down. The length of turns can be determined by songs that the children choose to sing (i.e. everyone's turn lasts the length of one song).
Limbo Games
This fun party game has been around for years and can be enjoyed equally by children and adults.
This is a game that will bring laughter and maybe some tears as you try to limbo lower and lower!
Activity
Two people hold either end of a two metre length stick at chest height.
They should hold the stick in cupped hands, so that it will fall easily if touched.
The children take turns going under the stick without touching the stick, bending their knees and leaning as far back as necessay.
No hands may touch the floor.
This will be easy at first but with each round the stick gets lower.
Anyone who falls or touches the ground with their hands is out.
---
To Consider....
***One consideration on our childrens disco, is the Strobe light must NOT be used if any of the children suffer from epilepsy***
***Please check (We can look too as we know what to look for) with the venue if they have a smoke alarm, as we will not be able to use the smoke machine***
Optional glow accessory packs available, including - glo-bracelets, glo-sticks, glo-necklaces, glo-glasses, glo-bunny ears, neon face & body paint - You choose 🙂
All our DJ's are fully CRB checked.
During a weekend it is better to book a party that ends before 4.30pm as many DJs have evening parties to do as well.
We can do night time parties for children but they then become priced the same as an adult disco. Please contact us to find out the difference.
PLEASE CONTACT US IF WE CAN ANSWER ANY QUESTIONS YOU MAY HAVE ABOUT OUR PACKAGES OR WOULD LIKE US TO HELP YOU COME UP WITH AN INDIVIDUAL PACKAGE. Call 07729 224 597
OR FILL IN THE CONTACT FORM ON THE RIGHT OF THIS PAGE TOWARDS THE TOP
Other Mobile Disco Services you might be interested in:
Mobile Disco Hire Weddings Kids Karaoke
16th Birthday Party Barnham Village Hall