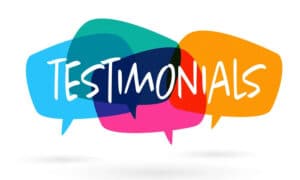 Mobile Disco Testimonials from our customers....
Hi Paul,
Just to thank you both for such a fab night - pitched perfectly and the kids loved it! Thank you so much for making it effortless and we'll be in touch again!
Many thanks
Nicola
---
Thank you so much for a great night. You were brilliant. Everyone said how good you were. We definitely can't wait to have you again.
---
Paul was absolutely fabulous. He played the best variety of music that all the guests loved! Paul was very helpful and fun too! Such a good vibe and definitely would recommend and book again!
Good evening
Nas and I wanted to pass on a huge thank you for our fantastic wedding reception.
It was such fun and we've had so many lovely comments about how great the music was.
Thank you for being so accommodating.
Katie and Nas
---
Paul, You have supplied a fantastic show for "The Presidents Club" for the last 14 years. The children love you, your entertainment is the best, we love the games you play with the children, even letting them be the Dj. See you next year boss.
Frank Bruno.
---
This professional website reflects the professional delivery from Mindy Disco Roadshow; he regularly offers a disco at my Thetford based venue, offering a diverse music range suiting the cliental in the venue on that evening. A very genuine man to work with and I look forward to continuing to work alongside you in the future. Keep up the good work!
Hi Paul, Just wanted to say a big thank you for Saturday. Appreciate you being flexible with the times and an excellent selection of music. Been to many a function where nobody dances so relieved you kept us all on our feet.
Thanks again
Lee and Emy
---
Hi Paul,
Just wanted to say "Thank you very much " for Saturday night!!!
We all had a fantastic time, and the fact that you carried on until 1 went down very well.
Thanks again, we'll definitely keep you in mind for future parties!!!
Kind regards,
Collen – Elveden Social Club
---
Hi Paul,
Just a quick note to say thank you very much for a fantastic 5 star show on Saturday night at Swaffham Rugby Club. The Karaoke & Disco were excellent!! We'll definitely look to have you back next year.
Thanks Again, Rob
---
'Just like to say again a big 'THANKS' for last Friday!!!  Everyone really enjoyed the party and a big part of that was your DJ services, your great selection of songs and the lighting show.  You were very easy to deal with and we are already thinking of using you again next year!"
Clare Bury St Edmunds.
---
I am starting to catch my breath after our wedding. We had an awesome time and it was everything we wanted and could have asked for, even with the rain. I hope you have recovered from you "man flue". Many thanks for the way in which you ran the music session, many people have commented how good it was. Thanks for helping to make our day special'.
Carol & James from Norwich
---
'We just wanted to say a big Thank You for being an awesome D.J at our wedding. We had a fab time and everyone thoroughly enjoyed the music. We will definitely use your services again in the future as well as recommend you to anyone that's looking for a great D.J.'
Lea Watton
---
'We absolutely enjoyed the day & night and especially the music played. Well what can we say …..awesome, great, fantastic! Thank you so much, the music made the night, nothing but awesome comments about the DJ. Thanks again'
Gary & Megan – Thetford
---
'We absolutely enjoyed the the after party you provided for us the sound and music content was superb, just what we needed at the close of our latest production. – The Titanic production company
Theatre Royal – Norwich'
---
Hi, just a courtesy email to say a huge thank you for a fantastic 18th birthday disco, one of the best performances I've witnessed, and being a professional club DJ myself couldn't of pulled it off better thank you very much.
all the best and thanks,
Mr Lee and Mrs Deborah Lewis.
---
Hi Paul,
We got back from our honeymoon in Florida yesterday and just wanted to thank you for the fantastic job you did at our wedding at Hengrave Hall Suffolk. Many thanks again for bringing all the extra gear, even if we didn't end up using it! The day just went so quickly! Also, many thanks for letting Dylan sing Journey…. apparently he'd been practicing for weeks! Thanks again, you done a fantastic job and we will definitely keep you in mind for any future events.
Kind regards,
Louise & Joe
---
Hi Mindy,
Just to say a huge THANK YOU for Saturday night. It was just what we had in mind – great background music to start with, then some fab dancing tracks to get people on the dance floor. Everyone really enjoyed it and you did a great job. Much appreciated!
All the best,
C. Martin
---
Paul
Just a quick line to say thanks very much for a terrific night last Saturday (15th Oct).
Everybody commented on the great selection of music you played – I think there was someone on the dance floor throughout the night.
We certainly enjoyed our wedding anniversary – as you could probably tell from the sweat that was dripping off me by the end of the night.
Hope I wasn't too much of a pain in the arse with my requests and playlist.
I do hope our paths cross again at another evening. We always spend new year at the Bell – it's a pity you couldn't get that gig.
Many thanks
Jim McCarthy
New Year 2011
---
Hi Paul
Along with my group of friends we would like to thank you for a brilliant show. Testament was the dance floor full from the start to the end all due to your very good selection of 60/70s music. In fact that was definitely the best Disco I have ever been to. We are in our 60s and know how to enjoy ourselves. We certainly did that.
Brilliant evening
Many Thanks
John Kennedy
---
Hi Paul,
New Year 2011 was a fantastic night all round and your disco was fabulous, you really had them dancing all  night long.
It was a great night allround and I am sure we will all agree to have you in 2012 so do put us down in  your diary.  We have a meeting on Friday but I think it is a done deal anyway because the Committee were  thrilled with the atmosphere and why spoil something that is perfect.
Sylvia and Michael.
Santon Downham Village
---
From Norwich City football Club……..
Hi Paul,
Just wanted to say thank you so much for Sunday night! You were a legend! Such a brilliant DJ-we were all dancing and all loved it-no mean feat, considering the different music tastes we all had! So grateful for all you did in making it a night to remember.
If we ever need a DJ again we know who to call.
Many many Thanks
Laura
---