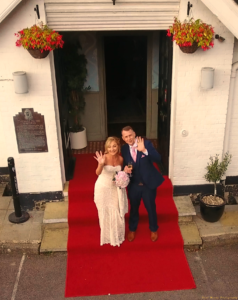 We have put together the ultimate bespoke #Aerial #Photography & #Disco #Wedding #Package.
Aerial photography or film of your wedding gives a new and exciting perspective to your wedding photo album, we can deliver beautiful intimate shots of the bride & groom and to showcase the wedding venue at its best.
Working Together
We can work alongside your ground based photographer and liaise directly with them to come up with a working plan of the day to maximize our time at the venue and to plan the best shots possible.
The possibilities that aerial photography brings will blow the traditional wedding album out of the water.
Nothing compares to the cinematic grandeur of aerial footage. we can capture your entire venue, all your happy guests and maybe even a breath taking sunset, Drones reveal landscapes, spectacular views and give you a much more powerful sense of scale.
We are fully licensed by the Civil Aviation Authority and have 5 million as standard for our liability insurance giving you complete peace of mind. We are an experienced team and have the ability to work on our own initiative to capture the best possible images of your special day for you & your family to treasure.
Our Fleet
We have in our fleet the latest in High end UAV technology and stunning UHD 4K cameras to provide our clients with the stunning aerial images that they have grown to expect from us, the aerial cameras we use are fairly quiet compared to some.
We pride ourselves on achieving the best possible images for our clients and believe that we offer exceptional levels of customer services as we believe that this will grow our business stronger and develop long lasting working relationships with our clients.
Wedding Reception
We then can move onto entertaining you and your guests in the afternoon/evening. With 35 years experience in Wedding Disco entertainment we guarantee a fun packed night.
Our wedding mobile disco uses our vast experience of wedding entertainment to create the perfect party atmosphere.
Your requirements will be discussed with you prior to your big day, this ensures that every aspect of your evenings entertainment is perfect.
As we guide you through the evening starting with your first dance, we welcome a second dance, so that your close family can enjoy the atmosphere too, followed by music that everyone will enjoy.
Your DJ's always arrive on time, smartly dressed and ready to entertain you and your guests.
We are a family run business which means that you will always be in contact with us from booking right through to your last dance.
We love to take requests and have a
massive 35,000 to choose from – Karaoke too if needed.
Call 07729 224 597
Or fill in the contact form on the right hand side of the page towards the top, thank you 🙂